What are the benefits of a circular economy?
Have you experienced any supply chain issues lately? From fresh produce to consumer-packaged goods, we are currently feeling the strain of living in a linear economy. Companies are relying on sourcing specific materials that are often coming from only one, singular location. These goods are being designed, developed, and shipped with the expectation that they will be used only once and will ultimately end up in a landfill after briefly serving their intended purpose. If 2021 has taught us anything it is that this type of linear economy will not be a sustainable or profitable way to move forward.
The solution to this challenge is a transition to a circular economy.
The great news is that the transition from a linear economy to a circular one is possible and it will lead to a range of benefits for your company.
Financial Benefits
According to the World Economic Forum "The circular economy, which promotes the elimination of waste and the continual safe use of natural resources, offers an alternative that can yield up to $4.5 trillion in economic benefits to 2030." While achieving this number will take a large effort from the entire global supply chain, even small improvements can begin to make a difference.
Consider these areas first when looking to gain financial benefits:
Design:

The design stage is where 80% of environmental impacts will be determined. Consider design, resources, and methods that will allow for greater sustainability.

Durability:

Durable products and materials that can transport goods effectively will help eliminate waste and energy in the supply chain.

Regeneration:

Consider energy and resources that are more sustainable and support regenerative systems.
This McKinsey study found that "companies that focus on environmental and social performance may reap profit opportunities their competitors miss."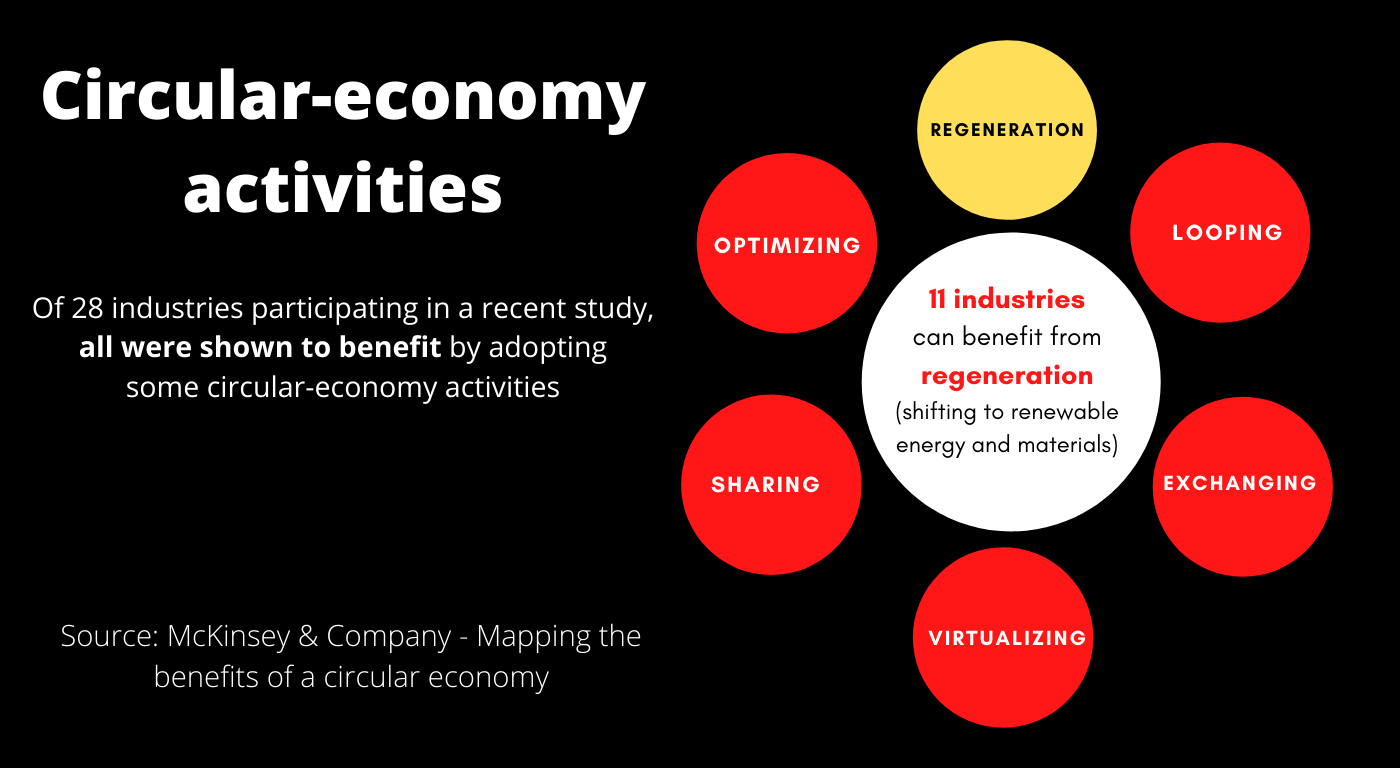 Environmental Benefits
Demand continues to rise, yet natural resources are finite. In order to continue meeting the demands of today's shoppers, businesses must shift their thinking toward recycling, regeneration, and renewal for their goods and resources.
The World Economic Forum points out, "Transitioning to a holistic circular economic model is critical to reducing environmental degradation and prioritizing biodiversity and nature, while also delivering on future competitiveness."
As a part of the fresh food supply chain, we understand how critical small changes can be to make a larger and lasting impact on the environment.
Considering these areas first when moving toward a more circular system for your business: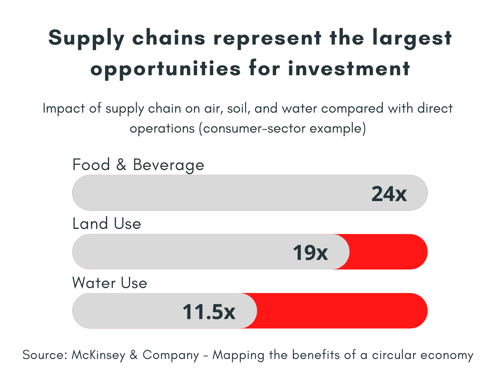 Relationship-Building Benefits
Once you have started to make the shift toward a more circular business model, be sure to share the news with your supply chain partners and consumers to build alliances, support, and strengthen your relationships.
According to this report, successful companies that are circular economy "trailblazers" gain more benefits by:
Using storytelling for impact

Setting higher standards in their product category

Sharing insights and IP openly

Initiating collaboration and alliances with partners

Influencing public policy
We may not be able to eliminate supply chain issues this year but we hope these considerations will support you and your company's plans to move toward a more sustainable and profitable circular economy.
To find out how Fox Packaging can support your circular efforts with sustainable and durable packaging, connect with us here, and for support with energy-saving equipment connect with us here.