End-of-line systems are synonymous with consistent quality and weight for your packaging products, but how do you decide whether to implement a stand-alone or integrated end-of-line solution? Understanding your options, the benefits, and the overall contribution to your production goals will help you assess how flexible automation systems can expedite your end-of-line processes.
NEWTEC's 4010W1
Packaging weights are a high priority for a few reasons when it comes to managing production lines. Precise weighing of product is required per regulatory standards set for product labeling. Packaging weight control makes for higher efficiencies in pack lines and weight accuracy is also important so that packaging overfill does not result in lost revenue.
By adding a weigher into your production line, fresh produce can be weighed and bagged at extremely fast rates. With Newtec technology, products that were previously considered to be difficult to weigh can be automated on your packaging line without hassle.
Here is what the Newtec 4010W1 offers:
High Weighing Accuracy: Typical giveaway less than 0.2%
High Speed: up to 20 portions/min. at 55 lbs
Extra Large Weigh Heads: For extremely large products and portions
Web Services Enabled: For remote servicing and capturing production data
Machine Link Enabled: From only one touchscreen, either on our Weighing Machine or Check Point, recipe change and start/stop for both machines is possible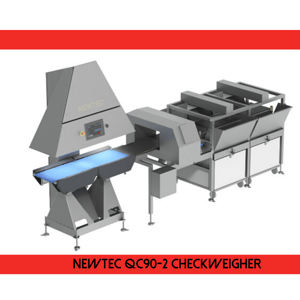 Another notable mention is Newtec's QC90-2 Checkweigher. Checkweighers are a vital aspect of packaging quality control that ensures the Check Point measures and assesses a whole range of criteria in addition to weight, such as checking the packaging material and the product angle on the belt.
The vision system can play an important role in reducing products that are incorrectly identified as having an accepted weight. For example, if the packaging is not closed correctly (leaking) it might result in loose products on the belt along-side an open packaging. Consider it a last defense.
INTEC's BC06P and APL06
Intec's BC06P was manufactured specifically for large fruits and vegetables, designed to extract and then stitch. This bagger is controlled by an electronic system which adjusts to the given order, packaging and dimensions, benefiting operator ergonomics. Its production speed is based on the weight being packaged, but can reach up to 15 bags a minute. This bagger is built to automatically place bags into the stitching benches' filling mouth and is synchronized to maximize placement times while being able to detect bag defects and avoids filling these bags.
The BC06 Bagger automatically sews burlap bags as an operator manually loads each bag.
The APL06, not seen in the video above and is an equipment add-on to the BC06P, is loaded manually much like a Fox Solutions Wicketed Bagger for Leno bags - which has a trolley format that can hold between 200-300 bags according to the packaging type. This add-on permits an operator to monitor the complete machine process without being dedicated to manual bag loading. A system of suction cups and holding tongs open the bag to ensure that they are prepared for filling.
Not only does this equipment pairing relieve operators of repetitive duties which may cause injury, it streamlines a process that may often require multiple operators and increases the speed in which packaging is filled.
INTEC's Agropal R3
Bag palletizing machines are designed to help you reach greater production rates, improve the quality of your pallet loads and reduce employee injuries. These machines are used widely by companies of all sizes who desire to minimize the risk of employee injury from repetitious, manual stacking of bags or who wish to increase production without increasing labor costs.
Like all Intecpal palletizers, the INTEC Agropal R3 is specifically designed for products with great stacking difficulties. This palletizer discharges the product vertically over the pre-layer zone and load assembly inside a mold with frontal and lateral opening capacity. The Agropal R3 also automatically adapts to different pallet widths at the production rate of 1,500 maneuvers per hour for bags at weights between 11 lbs and 50 lbs.
Additional features offered by incorporating this palletizer are:
Synchronized opening grip and lateral presses. It has a tilt action to receive bags from the fast belt.
3 axis Robot-Portico, programmable and motorized to locate the delivery point over the gates
Layer dimension lateral adjustment through some adjustable chutes with different widths
Synchronized gates for layer preparation
Pneumatic mold opening with pneumatic-mechanical closure
Pallet extraction rollers
Lifting platform
Electric cabinet with radial displacement to optimize cleaning and maintenance
Telescopic belt
Ribbed belt
at a rate of 1500

maneuvers

an hour for packaging between 11 lbs and 50 lbs.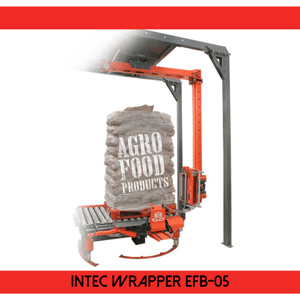 In the video above, you can also see an Intecpal Wrapper EFB-05 completing the end-of-line system. Now your team can focus on streamlining the completed pallets in preparation for distribution!
Learn more about how to Increase your Competitive Position through Automation by incorporating equipment solutions into your operations and what to consider when Selecting an Equipment Partner. To learn more about our products, email info@foxbag.com.