The clock starts ticking as soon as a produce item is harvested; and for the profitability of that item, there is little room for supply chain inefficiency. Thankfully, our industry is seeing significant advancements in automation that are contributing to improved operational efficiencies, pack-line productivity and overall cost savings which is a key ingredient in each grower/shipper's competitiveness.
Ongoing research is leading to the development of technologies that result in more competitive manufacturing. Rapid changes in both internal and external demands frequently necessitate change in different areas of manufacturing, i.e. lower price points and production costs, higher quality, and shorter throughput time. These demands require a high degree of flexibility and more dynamic decision making later in the production chain.1
While the food industry has been slow to implement and integrate automation into their current processes; those companies who have recognized the up-side have already realized a return on investment through reduced costs, which minimizes price increases over time, and in turn, prevents buyers from needing to shop around.2
Automation is one of the top food manufacturing trends for 2019, as
reported by Food Engineering Magazine. In a recent poll, 22% of those
responding reported installing advanced automation systems.2
Today, automation impacts almost every step in food processing systems, with labor expenses rising and the labor market tightening, automation manufacturers are looking to make additional advancements in robotics, computing, and sensors to address gaps.2
To meet prerequisites, companies have begun to review internal and external variables such as the optimization of equipment and utilities, food safety and security, supply chain waste reduction, and seasonal infrastructure development - all which influence the customization of various production and assemblies.2
Workforce Impacts
New manufacturing processes can be achieved by designing the system in a structured way with the most advantageous cognitive and mechanical levels of automation.1 It is important to understand that successful implementation of an automated system requires both the operator and the technology to work in cooperation with one another in order to simplify the workflow and create a sustainable system.1
Systems can be designed to address your specific needs while allowing operators to continue to progress in their skills. Technology should be be perceived as an investment - not only in the company, but in the workforce - and has been found to increase workforce productivity and output in meeting order demands1. As a benefit to employees, automation can carry out dangerous and unpleasant tasks such as repetitive handling of heavy loads. It also contributes a level of accuracy which helps to reduce errors and waste1. Real-time controls enable processes to use less energy and create less pollution. These are all benefits that contribute to productivity and growth, without necessarily requiring labor force down-sizing3.
Intec's Palletizer Agropal R3 builds a pallet, sending it down the line to be wrapped for distribution.
When to Automate
Businesses will adopt automation at varying rates, or not at all. The eagerness to adopt automation depends on the specific industry and product, internal culture, and budgetary considerations. Early adopters of automation are seen to be more technologically savvy in comparison to late adopters, who have to adapt later in order to remain competitive.1
Automation results1 frame what can be considered the advantages and concerns:

To remain competitive, companies must be able to forecast and adapt to future trends on both a macro and micro level; prior to investment, operations should review their processes to ensure that the full potential of the technology will be realized with both workforce and mechanical resources. Appropriate cognitive and mechanical levels of automation must be selected to meet the increase in production and to avoid over- or under-automated systems. This means that suitable allocation of tasks between resources must be outlined to create a system that is able to dynamically and precisely adapt.1
In the food industry, automation has directly increased competitiveness by eliminating errors and waste, improving efficiency and productivity, and expanding profit margins. Cost savings can be diverted to R&D and other business improvements. Companies are able to decrease labor costs, eliminate injury, and remain compliant to regulatory changes with less effort.2 On a national level, growth in employment opportunities within the manufacturing sector leads to increased employment opportunities in the supply chain as well.3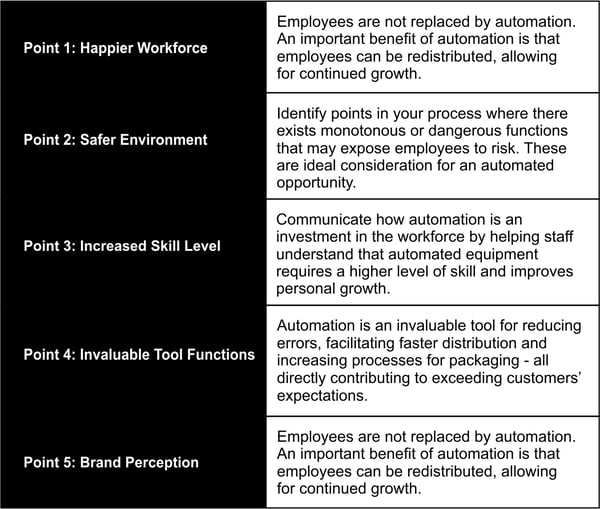 How much a business invests in automation is largely influenced by their goals. Eliminate the frustration of knowing where to start increasing your automation by selecting an equipment partner. To learn more about what equipment solutions we offer, email info@foxbag.com.
---
Sources:
1. Quantifying Levels of Automation ‐ to enable competitive assembly systems. ÅSA FASTH. Department Product and production Development. Chalmers University of Technology. Gothenburg, Sweden 2012
2. https://foodindustryexecutive.com/2019/07/increasing-competitiveness-through-automation-in-the-food-industry/
3. https://zenoot.com/articles/automation-the-key-to-competitiveness-growth-and-jobs/