Today, sustainability is often identified as a priority for brands, specifically within packaging programs. Brands are combatting their environmental impact by exploring eco-designed packaging. Bio-based designs (packaging materials that promote environmental efficiency) are a frequent topic of discussion1; however pricing, life cycle assessment results, and overall quality continue to impact these efforts and challenge bio-based options as a cost-efficient solution.2
---
LEARN MORE
---
On a basic level, packaging should showcase both functional and value-added benefits related to product protection and transport efficiency. Aside from these practical benefits, consumers view packaging as a consideration for brand loyalty and as an indication of product value.1
Does Your Packaging Design Communicate Sustainability?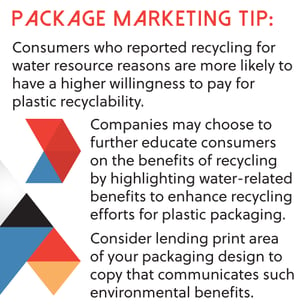 Research shows that the functional design, colors, and messaging influence consumers' overall perception of a packaging's eco-friendliness. Designing your packaging with a sustainable appearance and earth-friendly copy positively affects a consumer's overall attitude toward your brand and product while positively influencing purchasing intent.1
Contrary to several previous studies, we found that the largest consumer segment, one-third of consumers, favored environmentally labelled packaging as the most important criteria in their choice. These findings emphasize the increasing importance of ethical and environmental dimension in product choices3.
Sustainable Packaging and Fresh Produce
For produce packaging in general, the most important attributes that affect willingness to pay are product price, shelf-life, packaging design and environmentally-friendly packaging3. Other contributing packaging features which influenced purchasing decisions are:
The 'extend the ''best by'' date' was ranked as the top convenience packaging feature4
The type of packaging material which was considered to affect the food product quality4
Packaging made from bio-based materials were highly appealing 4
Functional package characteristics such as convenience of use, design and aesthetics remain at the forefront3
While there are various packaging materials and technologies available specific to fresh produce, plastic continues to be the most versatile.4 To be connected with a flexible packaging sales representative or to request samples of our signature Fox Fresh Mesh material and packaging designs, email info@foxbag.com.
Learn more about how to use color theory for printing in your art design in our Introduction to Color Theory in Packaging.
---
Citations
1. https://www.researchgate.net/profile/Lise_Magnier/publication/282409284_Consumer_reactions_to_sustainable_packaging_The_interplay_of_visual_appearance_verbal_claim_and_environmental_concern/links/59e8570aa6fdccfe7f8b4461/Consumer-reactions-to-sustainable-packaging-The-interplay-of-visual-appearance-verbal-claim-and-environmental-concern.pdf

2. https://www.flexpackmag.com/articles/89858-fpa-study-examines-meaning-of-sustainability?oly_enc_id=7009B7471878H5B
3. Preference for green packaging in consumer product choices – Do consumers care? (2008) Joonas Rokka; Liisa Uusitalo. Department of Marketing and Management, Helsinki School of Economics HSE, PO Box 1210, Helsinki FIN‐00101, Finland. E‐mail: joonas.rokka@hse.fi
4. Influences of packaging attributes on consumer purchase decisions for fresh produce. 2012. GeorgiosKoutsimanis; KristinGetter; BridgetBehe; JaniceHarte; EvaAlmenara. School of Packaging, Horticulture, Food Science and Human Nutrition, Michigan State University, East Lansing, Michigan 48824-1223, USA
---