Your team has worked hard, they've used available resources to help dramatically improve your packaging development process. You've laid out your art on your custom packaging die line and sent your completed design as a digital file to your account representative – now what?
Your graphic artist will now prepare your design and transform it from a digital file to a physical Stand-Up Combo bag, Fox Fresh Mesh bag, or another one of our available products.
The process between submitting your artwork and your design hitting the printing press is called the Prepress Process. This phase comprises of your art being made printer-ready. We understand that the faster a job gets to print, the faster it is converted and shipped. However, if your design is rushed through prepress, important details can be overlooked resulting in timely and costly delays, with the goal of proofing designs that not only look great but print great.
---
Pre-press

is a printing industry term for the activities that occur when a customer submits

graphic art to their printer for an order run

before any actual printing takes place.
---
Meeting Your Brand Strategy Goals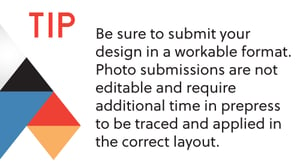 Our highly skilled art department who specializes in flexographic printing review submitted art through a lens of expertise and attention to detail, understanding what resonates with customers and renders the best printing results ― ensuring that your flexible packaging communicates your brand positioning with maximum quality in the marketplace.
Most graphic designers create designs without considering the printing process or the best practices to achieve inspired, high impact design. While these designs are phenomenal for digital viewing they are not true representations of what your final product will look like and could be a drastic impact to your overall lead time. Our graphic designers then generate a final mock-up, demonstrating:
Increased quality of small details
Review that the images have the proper format and resolution
That the PMS/CMYK colors are set up appropriately
Check layout elements such as margins, crop marks and bleeds are set up correctly, etc.
Smooth gradients fading to zero
That colors are strong and consistent in solid areas
After all prepress or "preflight checks" have been made, our art department will send a final proof for customer review and approval prior to sending the job to print.
---
Lead time often takes the biggest hit

in the prepress process, last minute changes to the design by customers or edits in product facts can keep orders from hitting the press as scheduled.
---
From Proofs to Flexographic Plates
The final stage of the pre-press process is the creation of printing plates. Printing plates are custom made for each job and provide the method for transferring the inked images to the proper place on your fresh produce packaging.
In this age of digital printing, flexography printing holds its own when running larger orders and long print runs. Using a flexible photopolymer, plates are then wrapped around rotating cylinders on a press to then transfer images onto our recyclable film.
Flexography has specifics relating to types of proofs, template and die cuts specifications, issues with knockouts, drop shadows, fonts, tints, ink colors, image resolution and image formats ― the prepress process prepare the quality of printing on your flexible packaging.
The Importance of the Prepress Process
To avoid delays, here are some design tips to ensure that your design moves smoothly through the process.
Make sure your images are high-resolution
Create a design that meets your package dimensions
Use fonts that are legible and visually pleasing
Ensure that your barcode is a vector file
Verify that your nutritional panel is updated
The prepress process ensures that your design is ready to be printed, protecting you from timely corrections and costly mistakes. To be connected with a flexible packaging sales representative or graphic artist or to request samples of our signature Fox Fresh Mesh material and packaging designs, email info@foxbag.com.
To learn how to best structure a print project to avoid delays and errors, request our printer specifications and plate quotes for your next display-ready packaging design project, email info@foxbag.com.
Learn more about how to use color theory for printing in your art design in our Introduction to Color Theory in Packaging post.