We know that a lot goes into finding the perfect packaging for your product. Not only do you need a package that provides functionality and fits the unique needs of its content, but it is equally important that it showcases your brand personality. Add in cost efficiency and sustainability considerations, and it can quickly become complicated.
Fox Packaging exists to cut through the confusion and offer a variety of flexible packaging solutions to help you find the right fit. We guide you through each step of the process and help you make the best decisions to fit your specific product, budget, and aesthetic.
We offer several resources to help educate our customers on what goes into the perfect packaging, like this Bag Comparison Chart to help you quickly identify the benefits of each Fox Packaging bag style.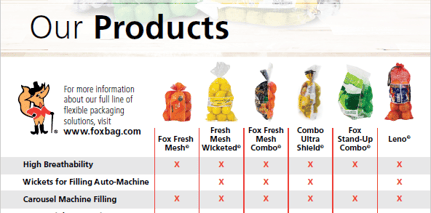 Here are some key points to consider when selecting your packaging design:
Fresh Mesh: Does your commodity sweat? Does your produce require a material that lets it breathe?
Art: Are you using your packaging label as a billboard to communicate your cause? Does your art represent your brand, capturing the eyes of consumers?
Packaging Design: Does your packaging serve small households or bulk distributors? Is convenience offered for easy transportation?
Quality: Does your packaging meet the specifications to support your commodity? Is there consistency in your packaging performance?
Price: Does your packaging supplier have buying influence, directly earning competitive raw costs?
End-of-Life Options: Can your packaging supplier support your sustainability goals? Are they leaders in innovation?
Fox Packaging caters to our customers' needs ensuring that their packaging meets all required criteria.
Ready to find a packaging fit for your product? Let us help!
---