The Fox Leno bag is a reliable and sustainable packaging solution for bulk fresh produce items like onions and potatoes. Leno material is a strong, woven mesh that is suitable for other items as well such as nuts, shellfish, citrus, and firewood. It has several advantages over other packaging options because it is solid, form-stable, breathable, and cost-effective. Leno packaging can be customized with high-resolution graphics and labels to enhance the product's appeal and visibility.
Leno Packaging offers benefits such as:
A wide variety of standard bag sizes including 1lb, 5lb, 10lb, 15lb, 20lb, 25lb, 50lb, and 50lb oversize bag sizes
Custom bag sizes can be configured according to product needs
Five color options for enhanced product presentation including tangerine/red, white, yellow, purple, and green
Up to a 8-color print options to suit your branding and marketing needs
Automation Capabilities
The Fox Leno bag in 25lb and 50lb wicketed applications are compatible with the INTEC bagger and palletizer system, which can automate your packing process and increase your efficiency and productivity. The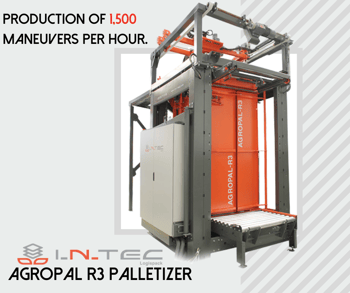 speed of an INTEC bagger depends on the type and size of the bag, the weight and volume of the product, and weigher infeed.
Automating 25lb and 50lb leno packaging can benefit both manufacturers and consumers of the products.
Automation increases the production speed and efficiency of leno packaging, reducing labor costs and human errors.
Automation can improve the quality and consistency of your leno packing, ensuring that the bags are properly sealed, filled, and weighed.
Automation can enhance the safety and hygiene of your packaging, minimizing the risk of contamination and damage to the products.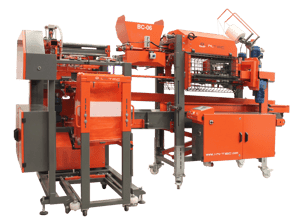 The INTEC BC06 bagger is a large capacity bag filler, specifically designed for fruit and vegetables. It simplifies manual placement of bags, extracting them from the exit belt while already packed and stitched. The BC06 is controlled by an electronic system that is able to self-adjust the type of package and its dimensions. Its production is totally linked to the product dosage machine and the bag placement ability. The mechanical capacity could reach up to 15 bags/minute.
To connect with a member of our sales team about the Fox Leno bag or bulk bagging and palletizing solutions, give us a call at (956) 682-6176 or email us at info@foxbag.com.