Flexible packaging represents about 19% of US packaging sales, and about 90% of those packages are for food products. It offers a number of sustainability benefits throughout the entire life cycle of the package, including:
Material/Resource efficiency
Lightweight/Source reduction
Food shelf-life extension
High product-to-package ratio
Reduced weight of finished good
Reduced materials to landfill
Beneficial life cycle metrics
Currently, recycling is the primary end-of-life solution for most flexible packaging materials, although challenges still exist for multi-material laminated packages. Initiatives such as the OSC2 Compostable Packaging Collaborative are actively researching new technologies and options that are compostable and renewable while still delivering the performance benefits of flexible packaging.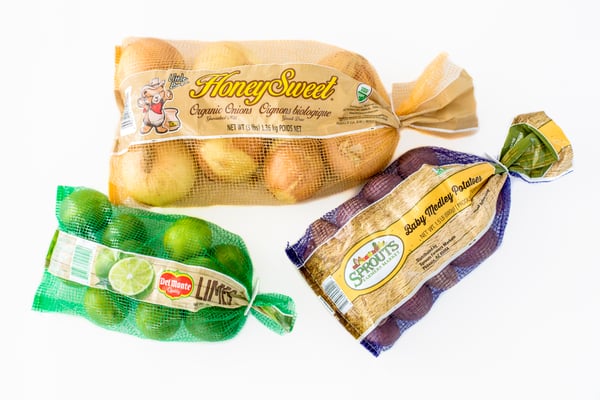 Working in collaboration with innovative film suppliers and our research partners, Fox Packaging is continuously searching for leading-edge packaging solutions that provide optimum respiration, light protection, and sustainability. All Fox Packaging mesh and poly/mesh bags are made of 100% recyclable polyethylene and polypropylene.
Looking for more info? The Flexible Packaging Association offers an array of information and support in the areas of enhanced consumer education with regards to material collection and recycling, research into improved end-of-life alternatives/recycling options for multi-material laminated packaging, and innovation around waste management infrastructure and compostable or bio-based materials.