What is upcycling? You can upcycle a used good or waste material to produce something new by modifying it to serve a second function outside of its original design.
Here are some ways you can upcycle packaging in your personal life to be a responsible consumer and advocate.
Use Fox Fresh Mesh In Your Backyard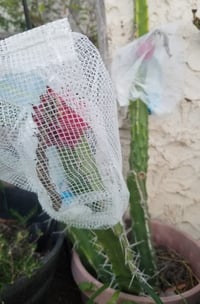 Protect your plants from critters. Using the Fox Fresh Mesh bag, you're able to keep critters out and let the sunlight in.

Drop a bar of soap into a mesh bag and hang around your outdoor facet. When you've been hard at work, the mesh gives your hands a nice scrub and the allows the bar of soap to dry and be safely stored for next time.

Cut strips of mesh to use as ties to support your plants and keep them growing in the right direction.

Ran out of garden pots? Use an onion bag as a placeholder planter until your plant is ready for its permanent home.
Use Packaging In Your Kitchen
Did you buy your potatoes in a bag with black and white film? Wonderful, that's light blocking technology, we feature this material in our Fox Combo Ultra Shield bag. Keep your potatoes in this bag instead of transferring to a different bin. Store your potatoes in a dark, cool area with the film facing any light source, and you'll notice that your spuds aren't growing.

Need to clean your produce? Fox Fresh Mesh is non-abrasive, it won't tear the skin of produce during distribution but can certainly give it a nice wash down in the sink for those loaded potato skins or smashed potatoes.
Use Packaging To Clean
Plastic makes for a great clean-it-up solution. Have a fresh produce bag laying around? Put it to work. Bunch it up or tie it in a knot to clean off your outdoor table, scrub your shower tiles, patio furniture, or your dog's food dishes.

Deodorize your kitchen by cutting up some fresh citrus, throw them in a mesh bag and boil them up. Then, once it's cooled down, use it to wipe your sink down for a fresh, clean smell and excellent stainless steel shine.
Extra Packaging Usages
A Leno bag can go a long way at the beach to store damp towels or clothing in to avoid that post-beach smell.

Keep a bag in the car for those 'throw away' situations.


Arts and Crafts. Use mesh as a scrapbook decoration, or makeshift "paintbrush" for children to play with. Rinse and repeat.

Fish Tank Sifter. Yes, I use mesh bags to keep the ammonia levels down in my fish tank by doing a weekly sand sift. The debris stays in and the clean, filtered sand comes out.
Ultimately, the best thing you can do to reduce your personal carbon footprint it to be mindful of your purchase decisions. Reuse your packaging application as many times as you can before you upcycle or ultimately recycle.
If you have questions or would like to use Fox Packaging for your brand, email info@foxbag.com.