Resin Identification Codes
Recycling can be confusing, but it doesn't have to be difficult. Taking the time to understand RICs, which stand for Resin Identification Codes, can make all the difference in protecting post-consumer recycled materials.
An RIC communicates what resins have been used to construct your packaging polymer. Our signature Fox product line falls under RIC #2 (high-density polyethylene) and #4 (low-density polyethylene).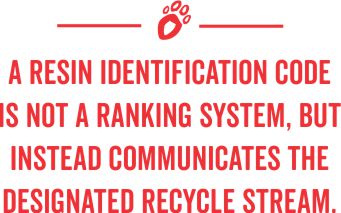 RIC #2 communicates that this packaging is widely and readily recyclable through curb-side programs and can be dropped into your recycling blue bin.
RIC #4 communicates that this packaging is recyclable, before placing this product in your blue bin, check with your city government to ensure that your local Material Recovery Facility (MRF) accepts this material, if not, rinse your packaging to clean away food debris and take to a participating in-store recycling program. This will guarantee that your packaging reaches a MRF that has the capabilities to recycle this material.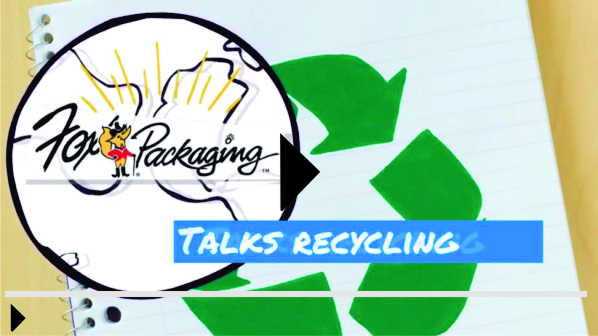 PLAY VIDEO
Recycling
Only 9% of all plastics have been recycled. It is our responsibility to communicate to consumers that participating in correct recycling efforts has a huge and positive impact on our environment. Proper recycling also adds value to post-consumer materials and directly impacts a Material Recovery Facility's ability to recycle profitability and divert materials from a landfill.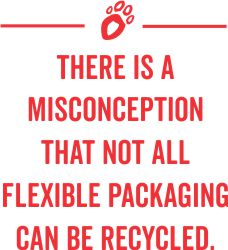 Flexible packaging can be recycled through curbside recycling programs in the U.S. As retailers, consumers, and local governments promote the recycling and recovery of flexible packaging, the value chain has aggressively sought out solutions to effectively and economically recovery post-consumer materials.
The responsibility to communicate and educate consumers regarding the steps a consumer can take once food packaging has fulfilled its initial function is where packaging can play an even bigger role. Food packaging labels are prime real-estate for communication campaigns, pushing cause marketing and informing the consumer of their next call-to-action.
The good news is that Material Recovery Facilities that do not have the capabilities to successfully process flexible packaging polymers can be optimized, creating a new stream of recovered materials while improving the quality of other recycling streams.
Flexible Packaging offers Environmental Advantages
Plastic is often a more efficient material in comparison to alternatives; thin and lightweight, plastic reduces the demand for natural resources used in production and distribution, omits less greenhouse gases and is incredibly energy efficient to manufacture, helping avoid waste at the source.
Weight of Packaging Material to Deliver 10 Gallons of a Beverage

Flexible Packaging

2lbs

Aluminum

3lbs

Steel

8lbs

Glass

40lbs
Flexible packaging is displacing many other packaging types due to its inherent attributes of being durable, protective, transparent, easily printed with high-quality graphics, and resealable. Life cycle assessments have provided compelling data about the environmental advantages of flexible packaging due to material efficiency.
Through consistent demand, flexible packaging is:
the fastest growing segment of the packaging industry in the U.S. and globally,
valued at 30.9 billion with 2.4% annual growth rate (16' – 17'),
projected to grow in almost all end-use segments of industry
To use flexible packaging in a circular manner, Fox Packaging has positioned ourselves to be 100 percent recyclable and reusable. Re-sealable pouches have been more popularly used in fresh produce, refrigerator, and freezer sections ― given its aesthetic appeal, reusable functionality, and important life extension properties that help product respirate, ultimately aiding to combat against food waste.
Meeting Sustainability Goals
While millennials, individuals between the ages of 26 and 35, are the most likely age group to seek information on recycling and sustainability, they're not the only ones who are looking for products that are less harmful to the environment. Nearly half (44%) of "Buying Green" respondents say the sustainability of packaging is a factor in their product selection decision; consumers over the age of 50 are more likely to identify as environmentally aware (63%) than those under 35 (54%).1
Retailers have shifted towards a more pragmatic approach to meeting sustainability goals, requiring a more active contribution to:
Creative packaging designs that make flexible packaging more easily recyclable,

Increased collection efforts to help get materials back into the system,

Better sorting and more end uses to increase the value of collected materials,

and new technologies.
We know that nearly half of consumers today are actively seeking information on the sustainability of products they buy and use. Our research shows that consumers care — and are willing to pay for — more Eco-friendly packaging.
At the same time, there is a need for those of us in the industry to transparently address Eco-friendly trends with product sustainability information on packaging, and to provide packaging options that meet consumer demand for sustainable and recyclable items. Not only will this be a win for consumers, customers and the future of our planet, we believe it also will drive profits.1
Contact Fox Packaging & Fox Solutions
Download our free Quick Reference Guide to become more familiar with the sustainability keywords surrounding flexible packaging.
For more information, visit our website at foxbag.com, contact our sales team at 956-682-6176 or email us at info@foxbag.com.
Cited Sources:
---