A leading cause of decreased shelf-life for all potato varieties is greening - a natural discoloration of the potato skin when they are exposed to visible and ultraviolet light for prolonged periods of time. In 2010, Fox Packaging introduced, the Fox Combo Ultra Shield® bag, the first potato packaging solution designed to address the potato greening issue and drastically minimize product loss.
This unique poly/mesh design, available in 1 lb. to 20 lb. sizes, is an extension of the Fox Fresh-Mesh® Combo bag line, but has the added benefit of a two layer black and white poly film that protects potatoes from light damage.

To ensure the validity of the bag design, Fox Packaging participated in a three-month Michigan State study looked at the greening effects of different varieties of potatoes in six different bag types including the Fox Combo Ultra Shield™ potato bag. Each test group was evaluated for potato greening after storage in both direct light as well as an aerated light-proof chamber.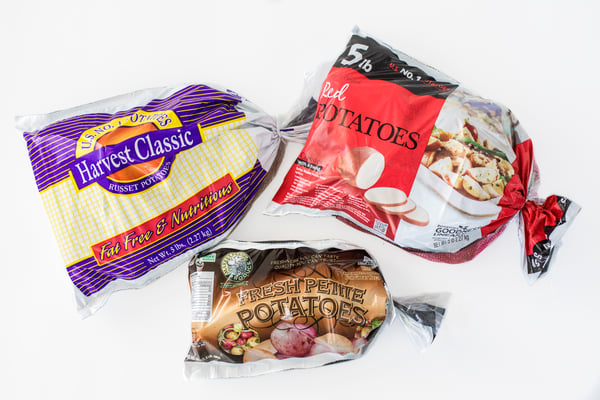 The results showed that the revolutionary Fox Combo Ultra Shield® bag surpassed the performance of all other potato bags in the study. MSU School of Packaging researchers concluded, "The bag transmission data shows that bags which have the light blocking polymer successfully block greater than 99% of all visible light and over 90% of ultraviolet light".
To connect with a member of our sales team to discuss how the Fox Combo Ultra Shield® bag can improve your potato profitability, give us a call at (956) 682-6176 or email us at info@foxbag.com.