Research reveals that 42% of consumers are willing to pay more for products and services provided by companies committed to sustainability initiatives and 32% are willing to pay more for products in sustainable packaging. Statistics like these are urging fresh produce brands to take notice, adapt, react, or be left behind.
In business today, it is likely that the topic of sustainability will come up in conversations with both customers and vendors. The struggle to best strategize an approach to this topic has proven a universal challenge with many variables which must be taken into consideration.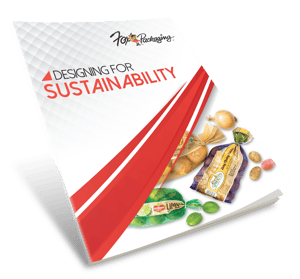 We recognize that sustainability impacts every aspect of a package and is an incredibly complex economic challenge. Balancing those challenges while keeping visibility to continuously evolving technical breakthroughs is important. The goal is to make incremental improvements over time in the sustainability of a package in order to reduce its overall environmental impact.
We examine several ways to make those incremental improvements in our newest eBook, Designing for Sustainability. Some of the many discussion points we cover are:
Product to Packaging Ratios
Material Sourcing
Product Configurations
Reuse and Recycling
Packaging Disposal
and more!
We invite you to download your free copy today!