Materials, Closures and Automated Solutions
When discussing sustainability, it is important to acknowledge that packaging plays a critical role in purchase decisions, as packaging is often perceived as a direct indicator of value. Product and brand perceptions are built upon an array of cues including price, packaging material, color, environmental-friendliness, etc., and each of these cues provide a basis for consumers in establishing their impression of that product or brand.1 While sustainable options have been garnering increased interest, it is still the responsibility of manufacturers to ensure that the package can perform its core function, to safeguard the product and preserve its quality while in transport and on the shelf.
Fortunately, innovative strides in sustainable materials (HD & Stand-Up Combo bags and Eco-Lok) and advancements in automation solutions (FSWB3) allow processors to adapt to increased demands while positively impacting labor and operational efficiencies.
Step 1: Supporting sustainability with recyclable packaging materials
Sustainable packaging requires a balance of economic considerations with environmental and social responsibility. Consumers and retailers alike are requesting environmentally-friendly alternatives to single-use packaging requiring convertors to dive deeper into research and development.
Three forces are driving the packaging supply chain toward greater sustainability: cost reduction, consumer attitudes, and regulation1. Major retailers that purchase most packaged consumer goods increasingly demand that their suppliers reduce the costs associated with packaging and packaging waste.2

Packaging serves as a powerful and positive financial investment for a number of reasons:
It protects products during transportation and storage from physical impact, crushing, abrasion, heat, cold, moisture, and other threats that could render the goods unfit for sale
It protects products from contaminants during transportation and storage, reducing food safety risks throughout the supply chain
It improves efficiency of storage and transporting
It impedes theft of otherwise small, loose items
It communicates essential information about the product and brand
And when processed efficiently, recovered packaging waste can also return significant economic value. Indeed, the more energy intensive the material is, the more lucrative its recovery and reuse can be2.
Minimizing product loss with appropriate packaging materials
For example, it is best to package potatoes in Fox Combo Ultra Shield bags, ensuring that the poly side, not the mesh side, is exposed on the shelf display. Often, you will see the mesh side displayed up on potatoes, inefficiently using the Ultra Shield technology which protects potatoes from greening.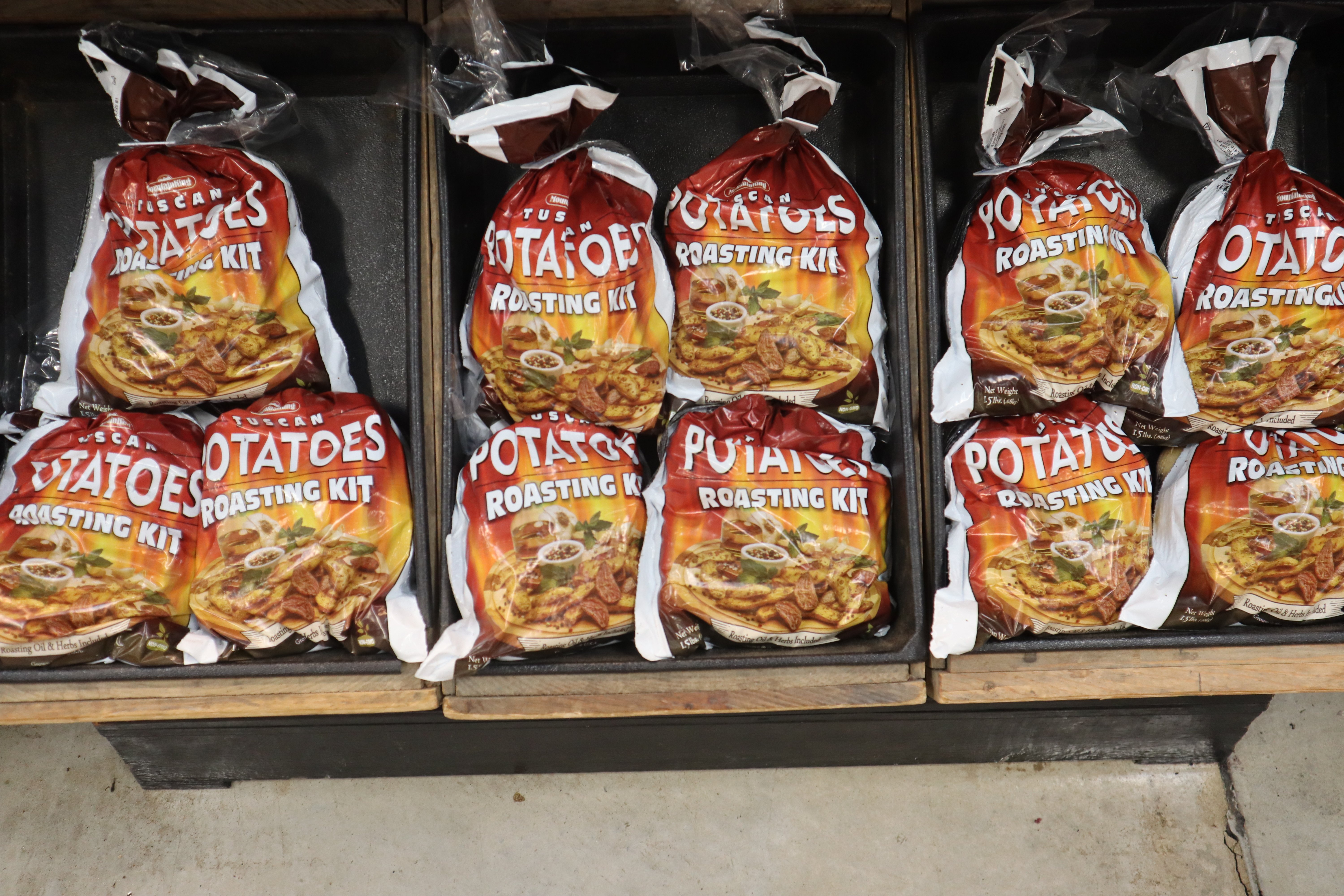 The Fox Combo Ultra Shield® bag is an innovation specific to potatoes, counteracting factors such as day-light, fluorescent, and blue and ultra-violet lights; exposure to these lights for as little as 12 hours can trigger greening in certain potato varieties4.
Ultra-Shield technology consists of two layers of black and white poly film that prevents nearly 100% of visible light and 90% of ultraviolet light from reaching the potatoes, dramatically decreasing potato greening and ensuring a longer shelf-life of up to 5 weeks.
Step 2: Boosting shelf life by reworking product
While packaging fulfills its purpose in protecting produce, the closures contribute a huge opportunity to rework. Kwik Lok has recently announced their sustainable Eco-Lok, formulated with renewable corn and potato starch resin called NuPlastiQ™. Eco-Lok uses up to 20% less petroleum-based product to produce and up to 20% less greenhouse gas to manufacture. It is re-useable and upholds the same Kwik Lok durability and quality. It's also printable, and metal detector compatible.".

This proprietary technology from BioLogiQ™ converts plant-based carbohydrates into material that is manufactured into efficient Eco-Lok closures, making this product mindfully sustainable in its ability to be reused.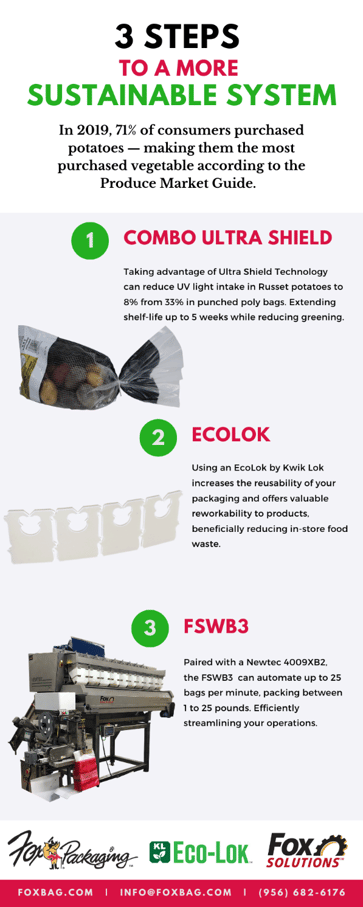 To fully utilize the sustainable features of the Eco-Lok, retail associates need to be trained how to rework a bag containing an undesirable item but is otherwise filled with quality product. They can do this by removing the Eco-Lok, untwisting the bag and removing the identified fruit, then twisting the bag once more and secure it once again with the Eco-Lok. This training step will not only assist in reducing food waste but will positively increase the likelihood of produce being purchased.
Step 3: Addressing sustainability through automation
Flexible automation is vital for packagers to achieve a sustainable system balance by addressing three strategic goals: 1)Preserve, 2)Protect and 3)Prosper.
Automation allows packagers to increase production, product consistency and reliability while improving working conditions and allowing manufacturers to quickly change to more eco-friendly packaging materials and options.
Automated packaging machinery offers a competitive edge, with increased labor savings, the reduction of greenhouse gas emissions, and the ability to control production outputs while reducing overall waste. Another benefit is that now one machine can accommodate various packaging formats without significant tooling.
Flexible automation can deliver a process that helps preserve the earth's natural resources. It leads to the reduction of scrap and waste materials, allows for quick-and-easy changeover to environmentally conscious packaging materials, gives packers the flexibility to handle less rigid, lightweight packaging and allows operations to maximize space and time.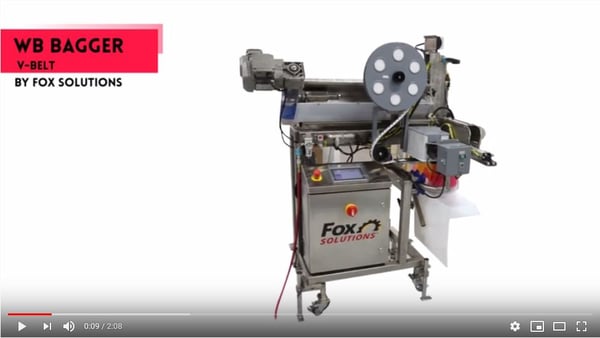 Pairing Kwik-Lok and Fox Solutions technology can reduce your labor costs and increase production. Manufacturers must also ensure that their machinery can run more conventional materials whose characteristics are changing because of higher recycled material content2. Working with your qualified equipment partner will aid in adjusting your current processes to adapt to sustainability hurdles and demands in operations. A 2009 study2 found that companies committed to pursuing sustainability achieve above-average financial performance.
Fox Solutions is a distributor of Newtec and Kwik Lok equipment. To see these Fox Packaging products and potato solutions in action, visit Booth #1201 at the Potato Expo is Las Vegas, Nevada on January 14th and 15th in the Mirage. You can visit the Kwik Lok team in booth #520 to learn more about the Eco-Lok.
For more information on how to integrate these steps into your current process, email info@foxbag.com.
Citations:
1. Influences of Brand Name and Packaging on Perceived Quality http://acrwebsite.org/volumes/6050/volumes/v09/NA-09
2. Packaging Machinery: Sustainability and Competitiveness https://www.trade.gov/publications/pdfs/packaging-machinery-sustainability-competitiveness.pdf
3. https://www.kwiklok.com/bag-closures/
4. Green Potatoes: The Problem. University of Nebraska-Lincoln, Cropwatch. https://cropwatch.unl.edu/potato/greening
---